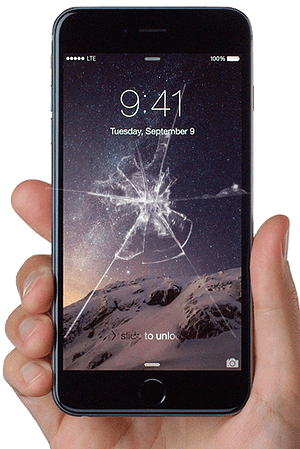 At iPhone Repair 4 Less, our technicians have seen it all, and we know how frustrating a broken iPhone screen can be. If you live in the Lafayette, LA area or a surrounding region and need your iPhone fixed, stop by or give us a call today!
We have described various iPhone repair services below that apply to:
iPhone X repair (TBD)
iPhone 8 repair (TBD)
iPhone 8+ repair (TBD)
iPhone 7 repair
iPhone 7+ repair
iPhone 6s+ repair
iPhone 6s repair
iPhone 6+ repair
iPhone 6 repair
iPhone SE repair
iPhone 5s repair
iPhone 5c repair
iPhone 5 repair
iPhone 4s repair
iPhone 4 repair
iPhone 3gs repair
iPhone 3g repair
If you do not see the repair you need below, we are sure that we can help you resolve the problem with a FREE diagnostic! 
Broken or Cracked Glass
Do you have a cracked screen, or is the digitizer not responding correctly? We offer fast and efficient repair service on iPhone glass. At iPhone Repair 4 Less, we can put a brand new glass/digitizer on any of your iPhone models in around 30 minutes. We warranty the parts and labor for 1 year against manufacturer defects on all iPhone glass replacements!!
LCD
The LCD (Liquid Crystal Display) frequently cracks or breaks on the iPhone. If you are in need of LCD/screen repair on your iPhone, we can take care of it in around 25-30 minutes and include a one year warranty as well.
Battery
Although you cannot remove the battery like on older phones, iPhones do have replaceable batteries. Today's lithium ion batteries will die over time. Water damage, overuse, and time can all be factors in destroying battery life. If you are experiencing battery issues on your iPhone, the battery might need to be replaced. iPhone Repair 4 Less replaces batteries at a very low cost, with minimal time involved.
Speakers
It doesn't matter which model you have, every iPhone user around the world can relate to iPhone speaker problems. Whether it's the top speaker that allows you to listen to calls, or the bottom speaker fading out, we've heard it all. While it could just be a little dirt making it hard to hear, we'll be sure to figure it out, whether we just need to clean it, or replace the speaker entirely. At iPhone Repair 4 Less, we offer every way possible to get that speaker loud and working again.
Camera
iPhone Repair 4 Less can replace or remove the camera from your iPhone 5 at a very low price. We understand that some people work in an environment that requires the removal of the camera from your phone. In the event that the camera on your iPhone is damaged or not responding, we will do everything in our power to get you back to taking all the photos and selfies that your heart desires.
Vibrate
Is your iPhone not vibrating anymore? Well, don't worry because this is an extremely easy fix. All we have to do is get into the device and put in a new vibration mechanism. Once that's done, you won't miss any more important messages while your iPhone is on silent. Regardless of the iPhone model you have, fixing the vibration is a quick and easy fix.
Antenna
If you are experiencing a low service signal on your iPhone, this usually means you'll need a new antenna. At iPhone Repair 4 Less we have replaced many antennas over the years and have had a high success rate of this fixing cellular service issues. Aside from having your phone up and running again with no dropped calls, we can get it all done in about 30 minutes.
Buttons
More often than not, the iPhone 4s buttons don't hold up to long term use, but it is possible to replace them. The top button/power button, vibrate switch, and volume buttons can all be replaced on an iPhone 5 as well, and at a fairly cheap price. This repair usually takes around 25-30 minutes when you bring it into our iPhone Repair 4 Less shop.
Water Damage
Here at iPhone Repair 4 Less, we have seen it all when it comes to water damage. The first thing you should know is DO NOT attempt to turn the device on, or plug it in at all until a professional can clean out the moisture. Water inside an iPhone will cause all of the components to begin to corrode instantly. We highly recommend that as soon as it is realized the phone is wet, you bring it in so we can do our magic right away. The faster water damage is tended to, the better the chance of a low-cost repair.
Unlock
iPhone unlocking is something that many people take advantage of when switching to a different cellular provider. All iPhones, when purchased, are often locked to the carrier where the purchase was made. So, if you need your device to work with another carrier such as T-mobile, H20, or even a provider in another country, we provide two different unlocking methods. The first is the software unlock, which requires the iPhone to be jailbroken. The other is a factory unlock which unlocks your iPhone indefinitely no matter what.
Jailbreak
Here at iPhone Repair 4 Less, we have always kept ourselves up to date with the latest jailbreak software for all iPhone devices. We study and test each jailbreak on our own iPhones before we offer it to the public. Over the past few years, iPhone users have fallen in love with their jailbreak for several different reasons. So, whether you need a jailbreak for free apps, or so you can make your iPhone a WiFi hotspot, we are prepared to get the job done.
Do you want to repair your device?
We can repair your device in minutes!